Here at Total Auto we have an absolute passion about American Cars and importing them into the UK…
There is just something about USA car culture and it's heritage that's a bit different, there is no doubt about it the UK has given birth to some iconic motors over the decades from Land Rover to Aston Martin and all sorts in between as have the European's when you consider Italian Super Cars and Germany's superior engineering but there is a pull to the raw manufacturing of America. Even working on the more modern cars these days is often easier than it's European counterparts with easy access, cheaper parts and less in terms of complicated sensors and diagnostics. OK so like any car there are irritations, EVAP systems as an example across nearly all US brands cause plenty of headaches but overall it's not hard to be an American car mechanic especially when you compare to working on something like a Volkswagen system.
So what really drives that passion for American cars and trucks?
Well, I'd say first up it's lack of access. Hummer, Cadillac and Chevrolet have produced cars in Europe as have Chrysler, Jeep and Dodge but more often not these have all taken on European engines. Cadillac pretty much got written off as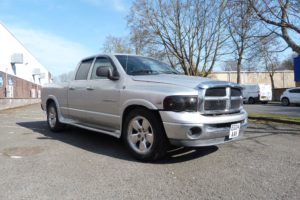 a re-badged Saab and Chevrolet became about small cars as opposed to the big engine SUV's trucks and Camaro's. Jeep probably had the most success at crossing product lines whilst Chrysler's Grand Voyager played a key role in the MPV market. What we have never really had on mass is the big engine V8 trucks and cars. Such a vast array of cars that we jsut never have had here in the UK. Whether it's Ford Mustang or Dodge RAM, GMC Trucks or Chevrolet Corvette's we just never had them in the UK market.
Second to this is the engines, a big engine here is a 2.5 or maybe 3.0. V6 is something special but the V8 that is a rare thing these days. Regardless of the horsepower involved that V8 rumble is something to behold and can't be beaten. That slight feeling of too much power underfoot being thrown to the rear axle is an immense feeling. This spans the years from the 40's through to modern cars. Again access to these kinds of engines are few and far between in the European market.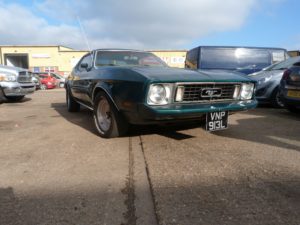 Finally, you have the car scene here in the UK. Every brand of car has a club, whether you love or hate a car you will always find a fellow lover or hater. The American car scene here in the UK is buoyant and full of fantatical like minded people. From restoring to original or hotrodding or just wanting something different to run around in day to day. There is plenty of attitude, style and bags of merchandise and media entertainment to support the passion whether it's watching Richard Rawlings and his team on Fast n Loud or following the likes Chasing Cars. The Classic American car scene is changing and evolving and spanning generations now where a few years back it was all about 50's trucks, it's moved on to 70's muscle cars and continues to head towards the 80's now. When you think of some of the real icons of TV you think of Knight Ride, General Lee, Bullitt and Dominic Turreto's Dodge.
So if you summed it up …. why do we love American cars and trucks? DIFFERENT VEHICLES, BIG ENGINES, COOL CARS!